Hey folks!
It's me, your littl' box man. And, much like other online musicians, I have an EP out on Bandcamp. It's called...
CAPTAINSIDEWAY - the short end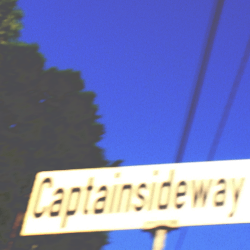 Who the frazzle dazzle is Captainsideway?
Captainsideway is the name of some private driveway next door to the apartments I used to live in. As soon as I saw the sign, I thought, "Hey, that's a pretty cool band name," so this is my attempt at what I think a band named Captainsideway would sound like.
What kind of music is it?
If you like rock instrumentals in weird time signatures, you'll probably like this. It's kind of like "post-rock meets video game music meets Arnold Palmer and they go and play a game of tennis together."
Where can I listen to this fantabulous music?
First off, fantabulous isn't a word. Stop destroying the English language!!
You can stream the EP in its entirety, or download it (at name your price (which means you can download it for FREE if you want (but it'd be nice to throw a couple pennies my way too (but hey, it's your decision, I'm not going to force you one way or the other (but it'd be really nice to have a couple bucks, just sayin')))) off of my Bandcamp page here:
https://littlbox.bandcamp.com/album/the-short-end
I'm also uploading each track to the Newgrounds audio portal, so you can listen and download them from NG as well!:
Finally, if you're a YouTube music streamer, you can listen to it in its entirety here:
I hope you get the chance to check it out, and maybe it even gives you a little ray of sunshine? Maybe?
In any case, hope y'all are doing well, and I'll see you next time I break into your house.
:),
littlbox